Global Online Training Program for Hospitality Staff Debuts at Hospitality Industry Technology Exposition & Conference (HITEC)
ALICE Academy Brings Hotel Training into the 21st Century While Improving Efficiency and Decreasing Turnover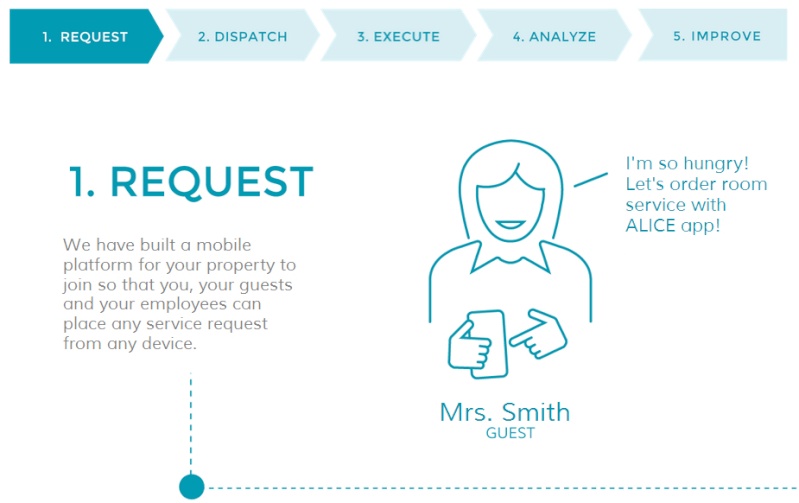 About ALICE
ALICE (AliceApp.com) has created the first mobile service-on-demand platform for the hospitality industry that empowers hotels and their staff to drive deeper, sustainable connections with guests using mobile technology while increasing operational efficiency through a robust back-end task management and analytics platform. In an industry that utilizes fragmented, legacy technology, ALICE provides a streamlined, mobile platform that simplifies a hotel's internal operations and unifies interactions between guests and staff across every department into a single system. ALICE is partner-friendly and can integrate into existing hotel systems and workflows of various departments, such as housekeeping, concierge and F&B. It can also run as a standalone solution. ALICE has gained serious traction in the industry working many of the world"s leading hotel brands, including Shangri-La"s newly branded, Hotel Jen; Bespoke Hotels; Standard Hotels; Gansevoort Hotel Group; The Setai Miami Beach; and Sixty Hotels. For more information, visit AliceApp.com.
ALICE, a mobile service-on-demand platform for hospitality, today announced the debut of an online and mobile training program for hotel employees around the world – ALICE Academy. The program will be powered by technology from Grovo, a learning platform for the 21st century workforce. A long-overdue effort to make hotel operations and staff training much more efficient, the Academy comes with the ALICE platform at no charge and can be completed in minutes with a series of videos, quizzes and tips.
It's no secret that the high employee turnover rate throughout the hospitality industry worldwide continues to be a major problem as the average hotelier spends 33 percent of revenues on labor costs, and the average employee turnover is 31 percent in the U.S. alone. In addition, hotels of all sizes spend thousands of dollars on hours of on-site technology training sessions for staff, which simultaneously occur as employees try to actively work and serve guests.
"As a company, ALICE strives to help hotels provide service on-demand, so it was only natural that we empower our hotel partners to train their employees on-demand," said Alex Shashou, co-founder and president of ALICE.
At launch, ALICE Academy will offer video lessons on what ALICE is and how to use the many functions of its system. These functions include lessons on handling all aspects of guest requests, posting internal notes and chatting with guests. The training program will be delivered through Grovo's cloud-based platform and enables accessible and convenient learning for busy, on-the-go hospitality employees.
Additional training lessons will follow that focus on how to introduce the mobile technology to guests and encourage its usage, as well as how it can best be used to provide superior service. Other trainings will eventually be added, including one to help reap the benefits of the analytics dashboard.
"ALICE Academy is perfect for hotels that have just started using the ALICE platform, as well as for those that have been using ALICE for a while but may have employees who are new to the hotel and need training on our technology," added Shashou.
ALICE currently works with properties on three continents, from Shangri La's Hotel Jen in Australia to The Setai in Miami to The Royal Riviera on the French Côte D'Azur. These hotels attract travelers from around the globe that rely on ALICE to help facilitate superior service, better understand guests and make improvements based on aggregated guest data.
To request a demo of the ALICE platform, visit Booth No. 443 at HITEC or email hitec@aliceapp.com.
#‎PanBlaze‬ ‪#‎hospitality‬ and ‪#‎entertainment‬ ‪#‎worldwide‬ ‪#‎updates‬ #Global #Online #Training #Program #Staff
Permissions in this forum:
You
cannot
reply to topics in this forum